Science: Your Eye Color Reveals A Lot About You
Did you know that no two people have the exact same eye color? It's true! Did you know that every person who has blue eyes comes from the same ancestor? Everyone with blue eyes has a very specific DNA difference. Many of us know that when most babies are first born, their eyes are a hazy bluish color, and then they change into whatever color will be that baby's permanent eye color. The reason for that is because an infant has almost no melanin in his or her eyes. This changes very quickly though. There are also many things that your eye color reveals about you.
Long ago, brown eye color was considered to be the dominant one. However, now scientists know that your eye color is a multi-gene trait, not a single-gene trait. So, it's a little more complicated than to simply say that brown eye color is dominant. It's more of a gene combination. It is even genetically possible to have your eye color divided into two colors on your iris, or two different color irises.
Also, did you know your eye color can change over time? Since the eyes don't constantly produce pigment, they can become lighter or darker as time goes on. You can see all of these facts and more illustrated in this fun infographic below by Mezzmer. Since our eyes obviously tell so much about us, it will make me think twice before wearing colored contacts. Whether your eyes are brown, blue, green or gray, you can be proud knowing that your eye color truly says a lot about our ancestry. You can see some beautiful eye photography too by clicking over to You've Never Seen Eyes Like This Before!
Your Eye Color Reveals A Lot About You…

Finally, here is a little trivia on eyes…. enjoy!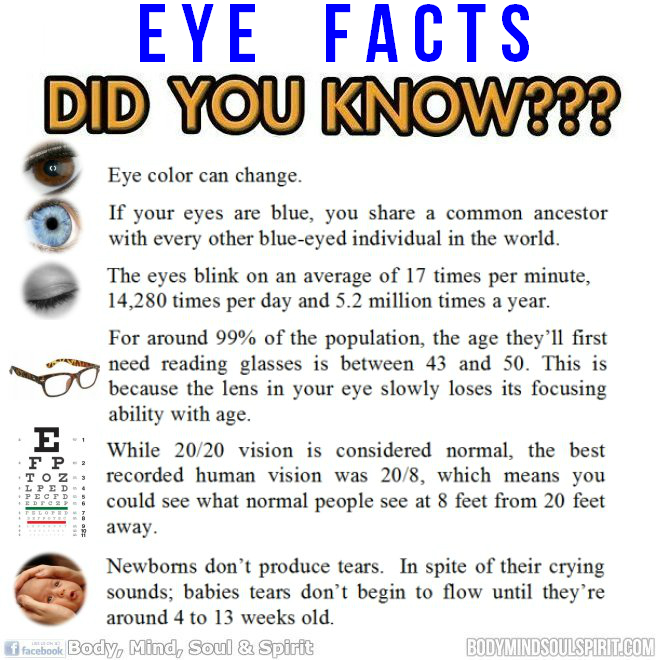 Source: http://www.bodymindsoulspirit.com/science-your-eye-color-reveals-a-lot-about-you/
Inspire others by sharing the link to this page on websites, Facebook or email!